If you're a relatively new investor, you may have just experienced your first serious downturn in the market. You were probably surprised at how scary and painful it feels to see the value of your portfolio decline—especially when you're also feeling concern for the health of your family and community. Even if you're an experienced investor who has been here before, you're probably surprised that these gut-wrenching selloffs still make you feel nauseas.
Studies have shown that losing money activates the same area of the brain as being chased by a bearLegal Disclaimer 1. Your brain delivers the message: you are in danger; you should run for your life. While listening to that message was useful to your ancestors when confronted by a real-life bear, it can be detrimental to you as an investor in a bear market (a market that has declined by 20% or more). An actual bear attack and a bear market will leave you stressed, anxious and choosing between a fight or flight response.
But we think we can help you survive a market downturn, even a severe one such as a bear market.
How? By looking at your compass, which you have the time to reference in a bear market (unlike an actual bear attack).
Think back to why you started investing. What was your original time horizon and has the timing of when you would need your money changed? Unless you have an urgent need for cash, it's usually a bad decision to get out of the market in a panic, locking in losses and giving up future gains.
The primary way to grow your wealth is 1) start investing, 2) make regular contributions, and 3) spend time in the market. In the graph below, you can see the growth of $1,000 invested in the stock market from January 2000 to April 2020 and the various market downturns that occurred throughout the period: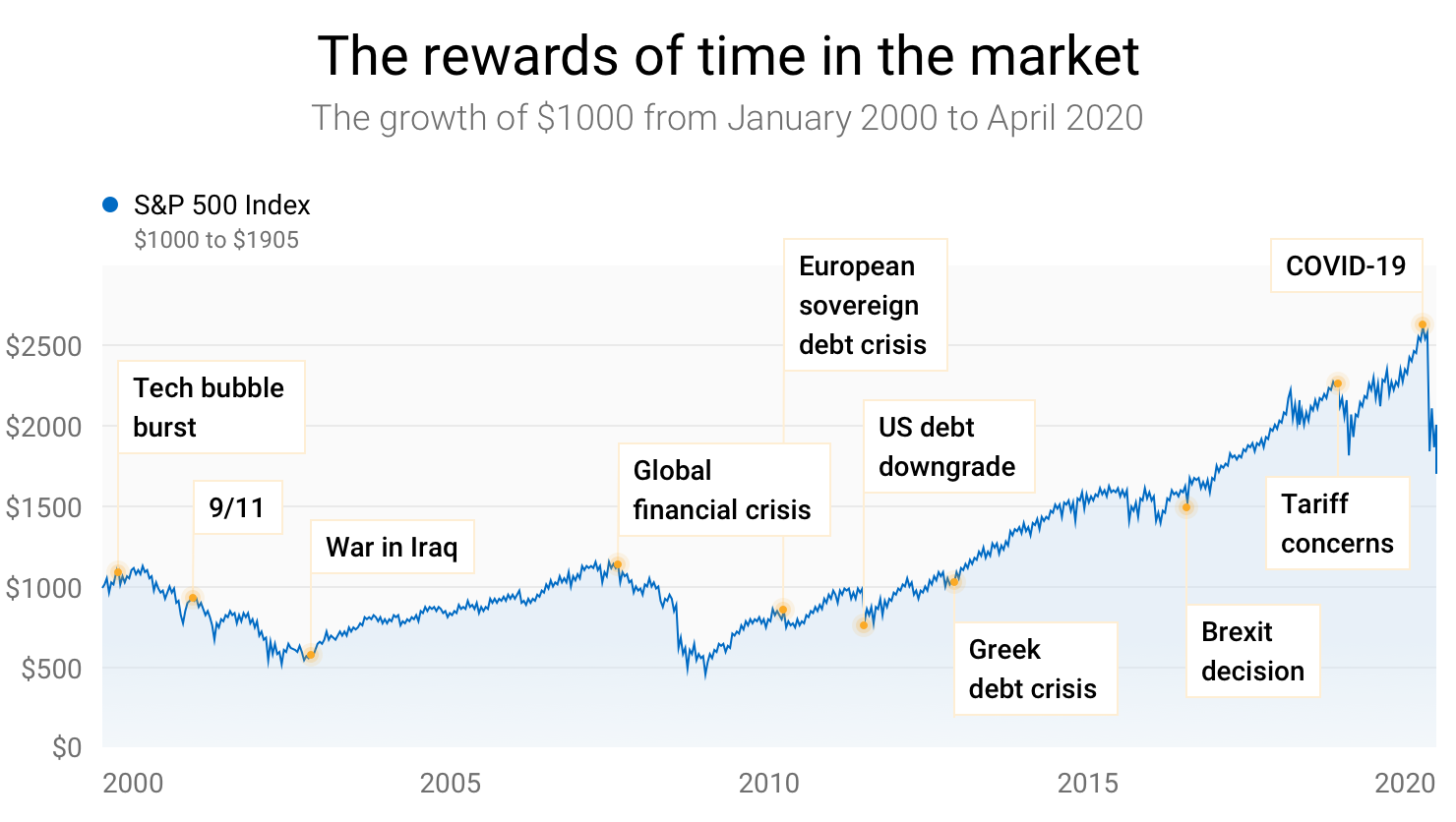 Despite several major downturns, $1,000 turned into $1,905 over this time period. And, if even small regular contributions had been made to that initial investment of $1,000, let's say $50 per month, or $13,500 total—$26,943 would have accumulated over that same time. During this time there were 6 market declines over 10% (but less than 20%) and 5 declines over 20%. The largest decline was 56% during the global financial crisis of 2007-2008. Still, the investor who was able to rely on their compass (their objective and timeline) and contributed regularly to their investments, grew their contributions of $13,500 by $13,443, and ended up with $26,943 —despite war, recessions, a pandemic and the deepest financial crisis since the Great Depression.
Need more help surviving a bear market? Call us!
Another advantage of being in a bear market versus a real bear attack is that you can call someone for support and guidance. At RBC InvestEase, our licensed portfolio advisors are available by phone or e-mail to support you. In fact, calling out for help may help you survive both a bear market and a real bear attack! Although, the latter will take a different kind of expert.
No one can tell you the best time to buy to take advantage of the stock market's eventual upward path. But we can tell you that regularly contributing to a diversified portfolio and staying the course is the best way to grow your money and reach your financial goals.
Categories