In the March edition of The Informed Investor, we look at the factors that are contributing to ongoing market volatility, including the impact of the Russian government's invasion of Ukraine, and share some helpful insights from history.
After many weeks of increasing tensions between Russia and Ukraine, the Russian military invaded Ukraine on February 24, 2022.
We want to begin by saying that our thoughts are with our clients, family, friends, and colleagues who are affected by these events. And though we'll be focusing on what these developments mean for your investments, we also want to recognize the human toll of this war.
An update for investors
The volatility that we saw in the markets as the year began was largely attributed to investors updating their views on interest rates. In January, market prices seemed to signal an increased chance that interest rates would be raised in order to ease ongoing inflation pressures.1
Other developments that contributed to the volatility included supply chain conditions, the risk of Russia's invasion of Ukraine, and the progress of the pandemic around the world.1 The volatility that we're seeing now likely still reflects these factors as they evolve, alongside new considerations in light of Russia's war on Ukraine.
At the time of writing, since the start of the year the U.S. S&P 500 Total Return Index (including dividends) is down 7.8% and Canada's S&P/TSX Composite Total Return Index (including dividends) is down 0.2%.2 Taking a longer view, both indexes are still significantly up year-over-year, with the Canadian index gaining 20% and the US index up 16.7%.
Watching the value of your investments decline can be a tough experience – even for seasoned investors – especially when a major cause of the decline is also causing immense human suffering and hardship.
We want to provide you with some context that we hope will help you to maintain a long-term perspective and to stick to the investment plan you set out in calmer times.
What history says about the impact of acts of war on financial markets
Of course, the past doesn't predict the future. But by looking back through history for the ways in which financial markets have generally responded to conflicts and other major geopolitical events, we can get an idea of the impact this war is having now and may have in the months to come.
RBC Wealth Management went back in history to look at how the U.S. stock market (represented by the S&P 500 Index) has reacted to past acts of war and hostilities since World War II. Their analysis found that on average, pullbacks tended to last 30 days, measured from the start of the market's decline to its recovery.3 The important message for investors is that this kind of event tends to have a relatively short-term impact on markets, even though many of the events lasted longer – sometimes much, much longer.
Taking a wider lens, it's also helpful to keep in mind that even years that delivered relatively high returns to investors included pullbacks. As shown in the chart below, since 2000 more than half of the years have included pullbacks of 10 percent or more for the S&P 500.3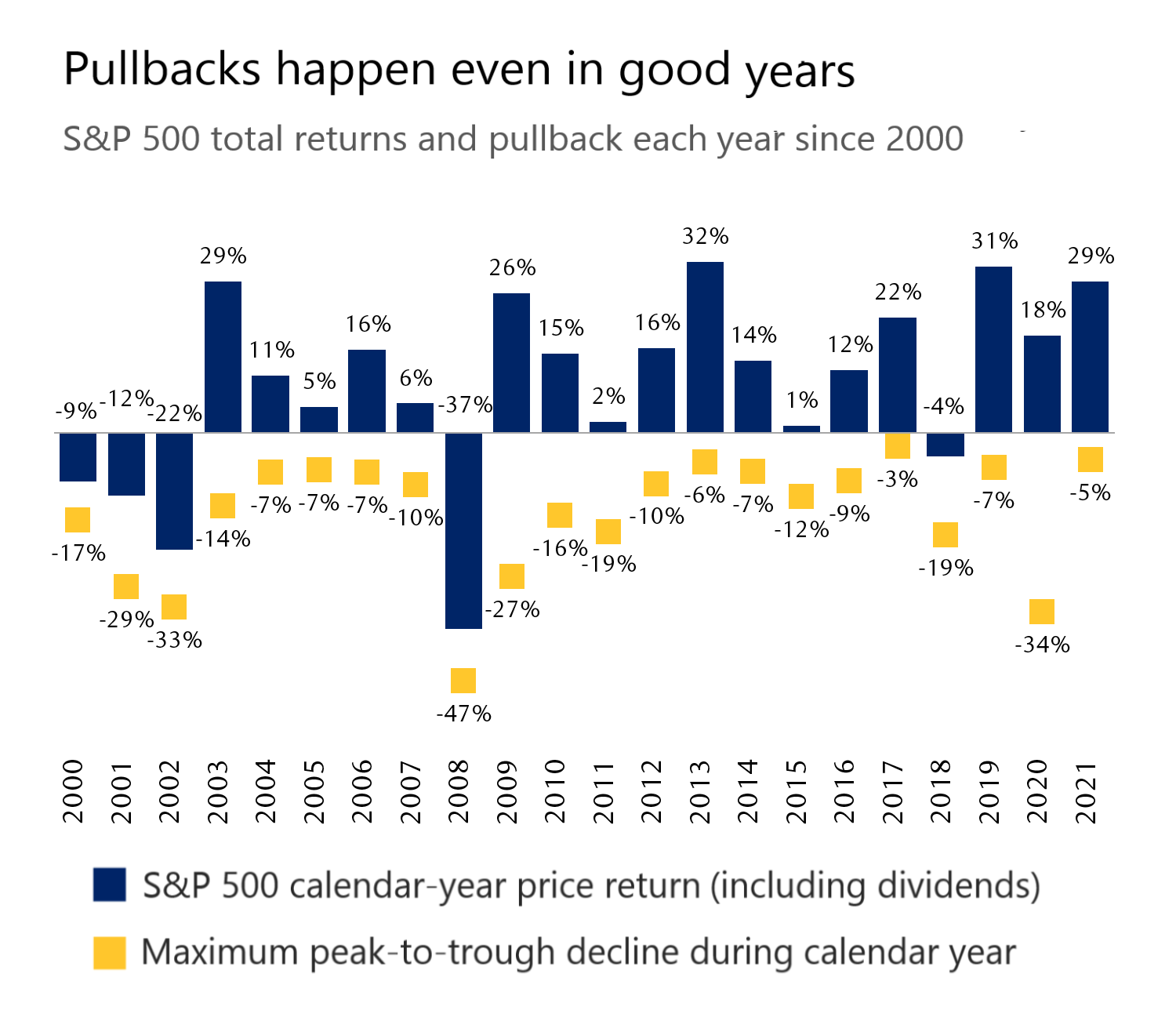 Source - RBC Wealth Management, Bloomberg; data through 12/31/21
At RBC InvestEase, we build our portfolios to be diversified and to match your risk profile. Diversification helps to smooth out periods of volatility like the one we're experiencing now as the various industry sectors, countries, and asset classes represented in your portfolio respond in different ways to developments.
At the same time, having a portfolio matched to your risk profile means that your investments have been carefully chosen to help you to manage and grow your money over your chosen time horizon. And that remains the case in all kinds of market environments, including this one.
A new RBC InvestEase feature for RBC clients
If you're an RBC client, you may have already met NOMI™(opens new window). The built-in intelligence of NOMI powers services like NOMI Insights™(opens new window), which helps you manage your everyday finances with tailored trends and overviews based on your banking habits. Available in the RBC Mobile app4 and RBC Online Banking.5
RBC InvestEase has partnered with NOMI to bring timely, personalized investing insights to RBC Mobile clients. These new insights can help you build good investing habits by letting you know when extra cash may be available to invest.
This new capability serves as a complement to NOMI's fully-automated savings service, NOMI Find & Save™(opens new window). If you have NOMI Find & Save turned on to help you build your savings, these new insights will also let you know when a portion of those savings may be better off invested.
You have control over whether you take action on these investing insights. And they also serve as helpful reminders while you're making everyday spending and saving decisions.
We do want you to know, however, that we are very excited that NOMI Insights now has the power to support your progress toward your investing goals. During periods of volatility, these insights can help you cut through the noise to keep up the habit of regular investing.
At RBC, we are dedicated to protecting your privacy(opens new window) and safeguarding your information and accounts. The NOMI Insights you receive are never shared and are for your personal use only. All your personal banking information is encrypted, safely stored and 100% backed by the RBC Digital Banking Security Guarantee.6
Categories