For the June edition of The Informed Investor, we sat down with Zoran Vojvodic, CFA, a Portfolio Advisor at RBC InvestEase, who answers a few questions about the current financial markets and offers helpful guidance on how to think about your investments during this time.
Q. The bond markets have experienced relatively large declines this year compared to what we've seen historically. What perspective can you offer investors who may be concerned about the bond portion of their portfolio?
A. Yes, so far 2022 has been a particularly difficult year for bond investors. Inflation has been elevated for much longer than anticipated, and inflation tends to be tough on bonds. As costs of living rise, the fixed amount paid by a standard bond becomes less valuable because that amount can be used to buy fewer goods and services. In addition, central banks announced a plan to raise interest rates higher and faster than they have in recent history in an effort to tame that inflation.

Bond markets quickly incorporated that new information, with prices of existing bonds declining to compete with newer bonds issued at higher interest rates. But as my colleague George Brown talked about last month, bond markets haven't just responded to actual rate increases but to everything anticipated between now and perhaps year end, so it is possible that the worst news is behind us. Even if there might be a little more pain, we believe that there's more upside potential than downside potential in bond prices. And as an investor, you always want to think about how current conditions are likely to affect your returns going forward.

If we look back in history, periods like the current one, where we see stock and bond markets declining at the same time are rare.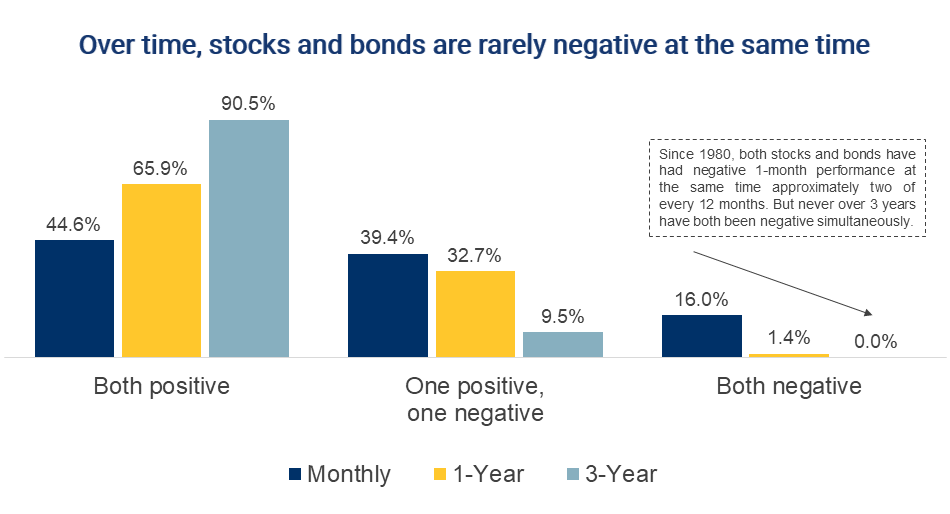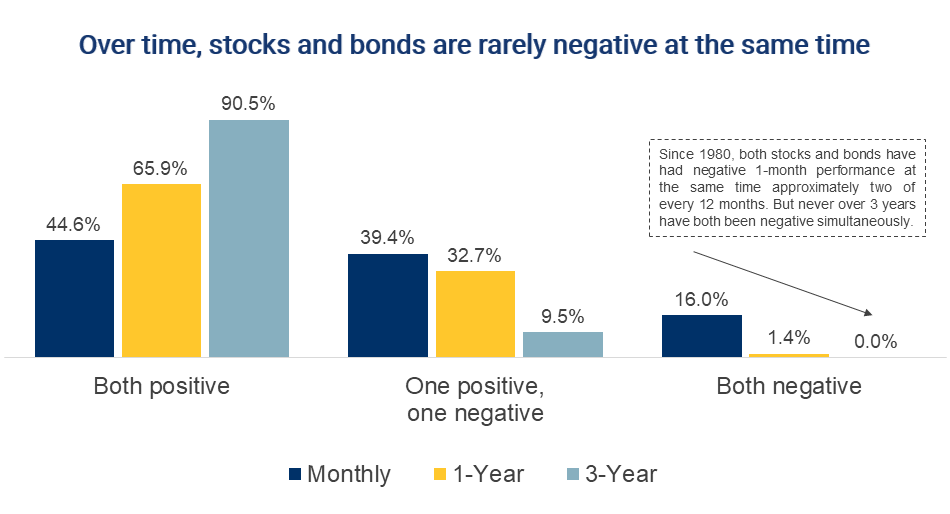 Source: RBC GAM, Morningstar. January 1, 1980 to March 31, 2022. Depicts the frequency with which the S&P/TSX Capped Composite Index CAD (stocks) and the FTSE Canada Universe Bond Index CAD (bonds) have been both positive, one positive and one negative, and both negative for rolling 1-month, 1-year and 3-year periods. An investment cannot be made directly into an index. The chart does not reflect transaction costs, investment management fees or taxes. If such costs and fees were reflected, returns stated would be lower. Past performance is not a guarantee of future results.
So bonds aren't currently providing us with the diversification benefits they have historically. A portfolio that's diversified across a mix of asset classes (like stocks versus bonds), industry sectors, and regions helps to smooth out periods of volatility. Why? Over time, different types of investments perform differently. They rise at different rates and lag in performance at different times.
In the current environment, the RBC InvestEase portfolios are seeing diversification benefits from their significant allocation to Canadian equities. Stock market declines in Canada have been much milder than those experienced in the U.S. and internationally due to Canada's heavy weighting in commodity and energy companies.
To read more about the current bond market environment, check out some insights from Krystyne Manzer, CFA, Vice President and Portfolio Specialist at RBC Global Asset Management.
Q. How should people think about their investments right now?
A. While some people may be unconcerned about recent declines or even feel positive about adding money to their investments when prices are lower, it's understandable if you're one of the people who feels uneasy.

It can be helpful to imagine the market as a steadily rising wave. As that wave is rising, you'll see swings up and swings down, but there's a general upward trend, and that's what I would recommend focusing on.

When you zoom out on the U.S. stock market, for example, you will see how small the current decline looks in the context of just a ten-year-time horizon. You will also see a strong market recovery since the lows reached during the pandemic just over two years ago.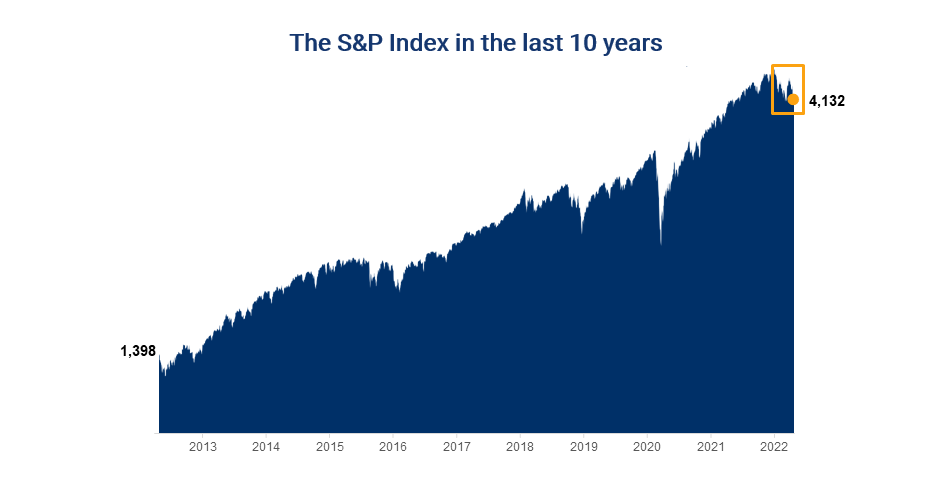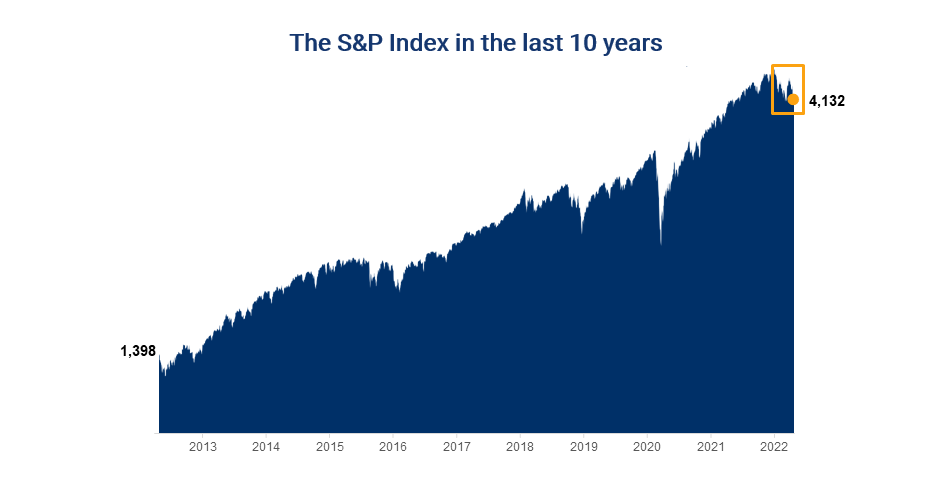 Source: RBC GAM, Bloomberg. S&P 500 Price Return Index from April 30, 2012 to April 29, 2022. Chart on right shows the 30-minute intraday intervals from January 3, 2022 to April 29, 2022. Index and returns are in US dollars. An investment cannot be made directly into an index. The chart does not reflect transaction costs, investment management fees or taxes. If such costs and fees were reflected, returns stated would be lower. Past performance is not a guarantee of future results.
Q. Is there anything investors should be doing now to set themselves up for the future?
A. One of the key things that you can do (if you're in the position to invest on an ongoing basis) is to make sure that you have a regular, automatic contribution going into your investment account. That systematic investment sets you up to catch the valleys in that rising wave of the market. The money you invest during those valleys will get you more investment units for the price you pay compared to when market prices are higher. And that can support your performance down the road.
Q. Any final words of wisdom that you would like to share with investors?
A. You're going to get 12 monthly statements each year. But what any one of those says is likely a poor predictor of what your performance will be over your investment time horizon. What will matter is where you end up two years from now, five years, ten years and beyond for some of you. You can let things play out in your favour as an investor by setting realistic investment goals and sticking to them through both market ups and downs.

It's also true that your financial situation and your plans may change. We're here to help you re-evaluate if that happens. And even if the goals that you had when your current portfolio was recommended remain unchanged, we're always happy to talk about what's going on in the markets and how that affects you. I would encourage you to reach out to our Portfolio Advisor team by email or phone if you have questions or need support.
Categories