The July edition of The Informed Investor features some insights from Gianni Dekirmendjian, CIM, a Portfolio Advisor at RBC InvestEase. Gianni shares an update on the current markets, a review of past bear markets, and encourages clients to reach out to the RBC InvestEase Portfolio Advisor team for more personalized advice when they need it.
2022 has continued to be a difficult year for investors. What are the main forces driving markets right now?
As in the past few months, the key factors affecting markets are high inflation, rising interest rates, and concerns around a weakening economy.
Statistics Canada recently announced that Canadian consumer prices rose again in May. In the US, a similarly high inflation reading prompted policymakers to add another 0.75% to interest rates, the largest increase since 1994. These still-high inflation numbers added further pressure to both stock and bond prices, as they suggested that central banks might take even stronger action to tame rising prices.
Markets have also started to grapple with the rising probability of a recession (a significant slowdown in the economy lasting several months). The risk is that rising interest rates and persistent inflation result in consumers who are less eager to spend and businesses that are less eager to invest and hire employees, even though that's not the outcome for which policymakers are aiming. Policymakers are instead trying to encourage a "soft landing," which means that they hope to tame inflation without significantly slowing the economy and affecting employment.
What perspectives have you been sharing with RBC InvestEase clients to help them navigate the current environment?
Some of our clients are understandably concerned about how long they may have to wait for markets to recover, especially when their day-to-day budgets are strained by rising prices.
No one can say for sure when markets will start to rebound. But past market declines can offer some direction on the actions that you'll feel good about taking (or avoiding) during this time. RBC Global Asset Management (RBC GAM) recently published a review of past bear markets (defined as a 20% decline from previous market highs) that can help give us some perspective:
Historical bear markets and their recoveries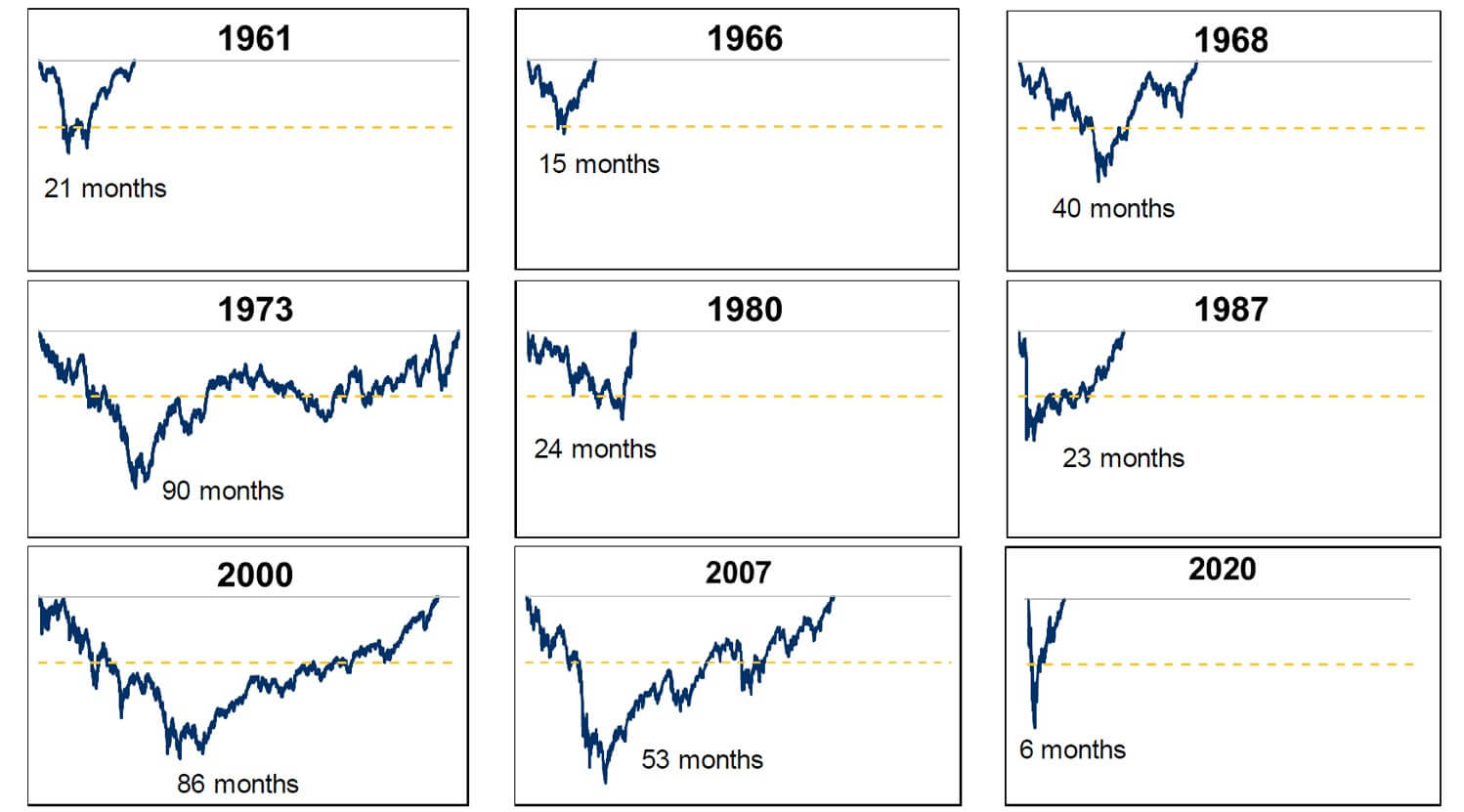 Since 1960, the US stock market has experienced 10 bear markets, about one bear market every seven years. This kind of decline is a normal and expected part of investing – even if that doesn't make them less painful when you're in the middle of them.
In each of those past declines, investors who stayed the course were eventually rewarded, whereas investors who stopped adding to or withdrew from their investments until things "cooled down" likely faced higher prices once they got their investment plan back on track.
It's also important to keep in mind that the bear markets illustrated in the charts above are for the US stock market versus a more diversified portfolio. At RBC InvestEase, our portfolios invest in bonds as well as Canadian, international, and emerging market stocks, depending on a client's risk profile. This investment strategy tends to provide a smoother investing experience compared to the deeper declines illustrated above.
As we illustrated last month, bonds aren't currently providing investors with the kind of stability they have in the past. And while it's still possible that bonds could decline further, we continue to believe that a lot of the adjustment in bond prices is behind us. RBC GAM shared similar thoughts in its latest Global Investment Outlook for Summer 2022, adding that it does not expect the experience of this kind of fast and deep decline to be repeated in the future.
Because all of our portfolios contain investments that perform differently over time, we're able to use downturns like the current one as an opportunity to rebalance your portfolio. That means that we're managing your portfolio to take advantage of lower market prices while staying on track with the goals and risk profiles for each of your accounts.
Any final thoughts for investors?
I really encourage you to reach out to your RBC InvestEase Portfolio Advisor team if you have any questions or concerns, especially during times like these. We're here to help you understand what the recent financial news headlines mean for you, as well as to ensure that your investment plan is still working for you. And we can guide you on how to disregard the noise when it comes to reaching your financial goals over the long-term. A lot of our clients end up being pleasantly surprised by the investment advice that's just an email or a phone call away. So I encourage you to take advantage of the advice portion of your RBC InvestEase service when you feel the need.
Categories