In the September edition of The Informed Investor, RBC InvestEase Advisor George Brown describes a few simple steps investors can take to build a solid financial foundation and how that can help prepare them for financial success.
According to the National Oceanic and Atmospheric Administration (NOAA), "Hurricane Season" begins on June 1st and ends on November 30th. Hurricanes, how they form, their frequency and how we can prepare for them offer a great analogy for investors looking to weather the recent volatility that has impacted investment markets so far this year.
How Market Corrections Form
Investment markets and hurricanes share many similarities. Scientists don't know exactly why or how a hurricane forms, but they do know that two main ingredients are needed. Warm ocean waters provide the energy a storm needs to become a hurricane. The other ingredient is winds that don't change much in speed or direction as they go up in the skylegal bug 1.
Investment professionals also don't know exactly how or why corrections form, but they do understand that certain conditions are needed. Elevated asset prices, usually caused by government spending and/or excessively low interest rates. The second condition is usually some form of catalyst that flips investor sentiment.
Market corrections, much like hurricanes are difficult to accurately forecast, and despite their apparent unpredictability, we know that over long time periods both are likely to occur.
Market Correction Frequency
NOAA's National Hurricane Center predicts and tracks these massive storm systems, which occur, on average, 12 times a year in the Atlantic basinlegal bug 2. Of course, it's important to remember that in any given year, the number of hurricanes can vary significantly. As recently as 2020 the number of hurricanes exceeded this average, and 2005 was a particularly devastating year with more than 15 recorded hurricanes.
The frequency of market corrections is no different. As shown in the chart below, since 2000 more than half the years have included corrections of 10% or more for the S&P 500legal bug 3.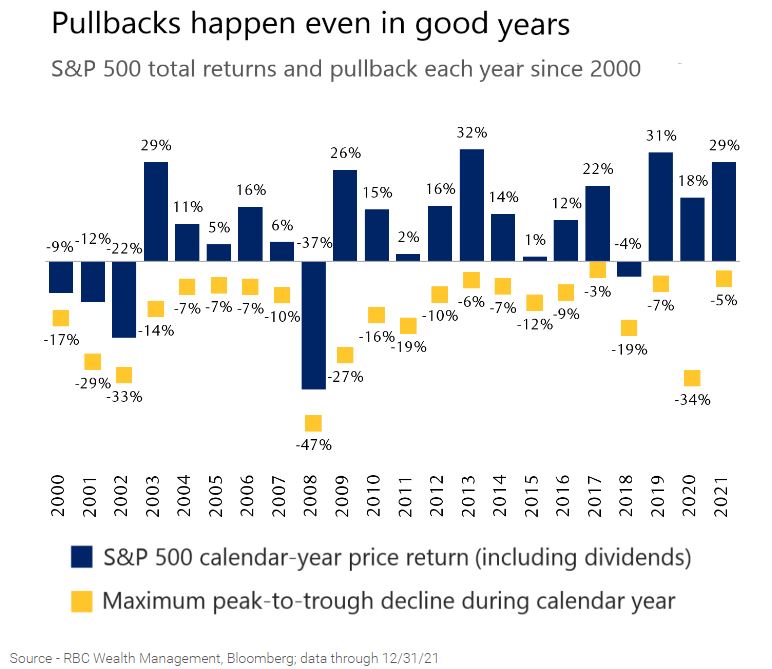 How to Prepare and Why it's Important
If we can't accurately forecast hurricanes why do millions of people choose to live in areas that are affected by them? One answer might be that the benefits of such location far outweigh the costs and with the proper preparation, most of the worst effects of these storms can be mitigated. Similarly, the benefits of investing can far outweigh the costs if you have set up a solid financial foundation that can weather market corrections. A solid financial foundation starts with;
Paying down expensive debt. Use savings to pay down expensive higher-interest debt such as credit cards.
Establishing an emergency fund. Three to six months of your recurring expenses should be set aside in a bank account in case of an emergency.
Maximizing registered account contributions. Once the foundation for your financial house has been established, you can then proceed to choosing which account type to invest in (e.g. TFSA, RRSP, etc.). To learn more about what might be best for you, click here.
Simply following these three steps creates a foundation for your financial house that is more akin to a fortress, preparing you to weather the inevitable market storms.
Weathering these "storms" or periods of volatility is important because doing so allows investors to benefit from the most powerful tool at their disposal… time. The more time you have for an investment to grow, the more likely the odds of a positive outcome become. Consider, for example, an investment in U.S. equities. If you were to make an investment for just one day, history suggests your odds of a positive return are not much better than 50-50. However, if you were to stretch your investment time horizon to 10 years, returns have been positive 95% of the time. Those are two very different outcomes for the same investment.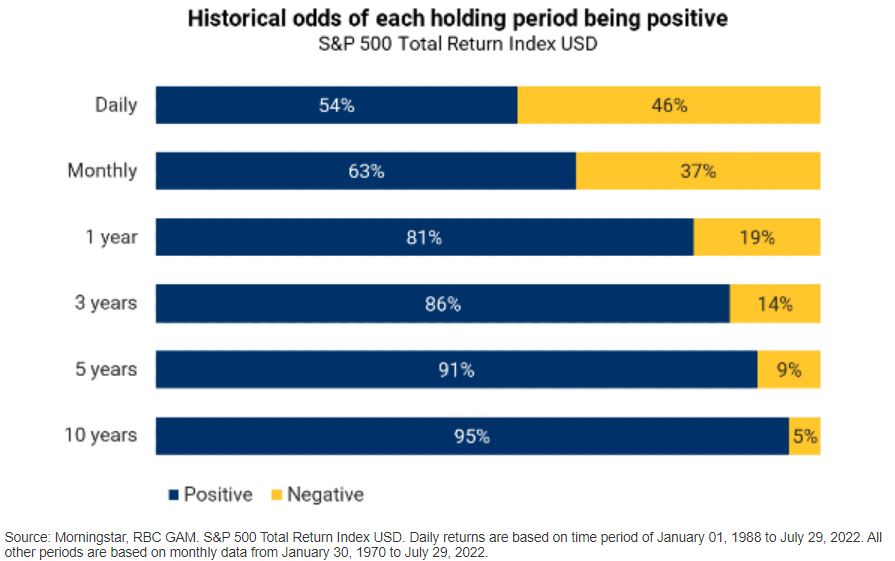 With your financial foundation in place, all that remains is making sure that your investment portfolio is properly structured to suit your investment objectives, time horizon and risk tolerance. Thankfully, RBC InvestEase is here to help, with a dedicated team of professional portfolio advisors available to answer any questions you may have.
Categories