In the previous edition of The Informed Investor we outlined some simple steps investors can take to build a solid financial foundation setting them up for financial success. This month we look at some strategies for taking the next step and funding your investment account.
Figuring out the best course of action for investing in uncertain times is not easy. After the last few years of strong returns, it can be disheartening to see a market downturn. But, this shouldn't necessarily be a reason to delay or alter your approach to investing.
Dollar-cost-averaging (DCA) can be an effective investing strategy to successfully navigate through uncertain times. The strategy involves investing small amounts at regular intervals. Gradually entering the market allows investors to take advantage of market fluctuations and buy investments at relatively lower prices during market corrections.
Dollar-Cost-Averaging (DCA) in Action
We may not want to admit it, but humans rarely make decisions based solely on statistics and figures. This is especially true when it comes to investing, where our emotions can also affect our decisions.
If markets start to drop, how do many investors feel about investing a lump-sum of cash? It might be appealing to delay the investment until the situation changes. This logic can keep investors on the sidelines – sometimes for an extended period of time.
Prior periods of volatility, such as the global financial crisis, provide an example of how a DCA strategy compares to investing a lump-sumLegal Disclaimer 1. Looking at two six-month periods: one where markets were falling and one where markets were rising helps illustrate the difference.
Let's make a few assumptions:
Each investor has $50,000 cash to invest
The DCA investor deployed the cash across six equal monthly installments
The lump-sum investor deployed the entire sum of the cash on the first day of the same six-month period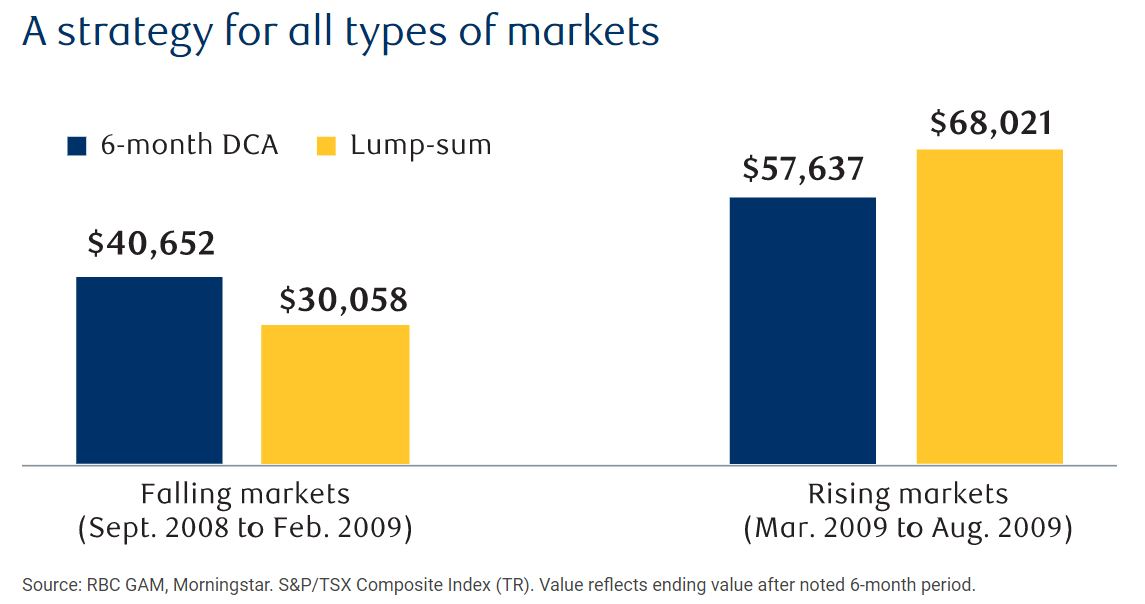 Key Takeaways
During falling markets the DCA approach protected the investor's holdings relative to the lump-sum investment. During rising markets the lump-sum investor outperformed in the six months following the market trough. But that outperformance relies on perfectly timing the investment to correspond with the market bottom. Consider the economic backdrop at the time of making this considerable investment. The reality is that even the most seasoned investment professionals do not have such clairvoyance (or nerve). Furthermore, even if investors have created a solid financial foundation, few investors have access to a significant lump-sum of cash.
The DCA strategy can be easily deployed using pre-authorized contributions or PACs. By making your contributions automatic, you'll soon find you don't miss those few dollars a month, but you'll really start to see your wealth build up over time. With InvestEase, there are no trading commissions to purchase investments further enhancing the benefits of implementing this strategy.
If you want to see how impactful this strategy is, this calculatorLegal Disclaimer 1 effectively highlights the benefits of investing through regular contributions.
If you're looking to establish pre-authorized contributions from your bank account to RBC InvestEase, just follow these steps:
1. Go to www.rbcinvestease.com and sign into your account
2. Click 'Move Money'
3. Go to New > Deposit > 'A Bank Account'
4. Fill out the form with the details of your new deposit
You can see the steps outlined in more detail along with some screenshots in the following article under the 'Moving money from a bank account' section. You'll also find instructions for the other ways available to fund your RBC InvestEase account.
Join Us!
Have you been wondering about inflation lately? Or about what could be next for your investments? For the first time, we're hosting a special online webinar to answers these questions and more.
In this short and sweet webinar, you'll:
Hear from Eric Lascelles, Chief Economist for RBC Global Asset Management on what may be in store next for the economy
Get the latest market and portfolio insights from a panel of RBC InvestEase Portfolio Advisors
Learn what's on the minds of other investors and get answers to your own questions
We hope to see you there! Feel free to forward this invite to friends, family, or that pesky coworker who's always talking about investments around the office. Details:
Date: October 26, 2022
Time: 2pm
Duration: 1 hour
Access: https://rbc.rev.vbrick.com/#/webcasts/rbcinvestease2022
Have a question you want to ask?
Slido link: https://app.sli.do/event/pD7CFNxT32XoKwYsnGWBEB
Event Code: #investease2022
Passcode: QA2022
Categories